DJ SHANIA MARK TWAIN
NOELLE
SHOW - MELLOW DRAMA
Poetry in the frequencies, reading collections of poetry & inviting guests to read collections of poetry
TRU/PHILIP BUCKNOR
SHOW - FORTHEFUTURE RADIO
A platform created for innovative conversation and sound explorations to share a space. We live in the age of information, and our show focuses on shaping and refining ways of which our listeners digest information, be it through music, conversation, engaged events, performance, etc.
DJ ZOE DANGER
SHOW: RADIOFLUID
An hour of sick, queer, punk rock, or whatever Zoë wants to play this week.
CARL SCHMITZ
SHOW - UNSTABLE EQUILIBRIA
Experimentally themed around art documentation, music, environmental sounds, or syntheses. Programming would often be responsive to its time: a program broadcast contemporaneous with the Academy Awards might feature the recording of a 1953 symposium on film and poetry that included Maya Deren. Otherwise, Deren's frequent musical collaborator Teiji Ito also composed a work dedicated to Matisse, and another show would explore synesthesia.
VOMITCHILD

SHOW - ALLIGATOR JUICE
Poetry, storytelling and experiments in sound.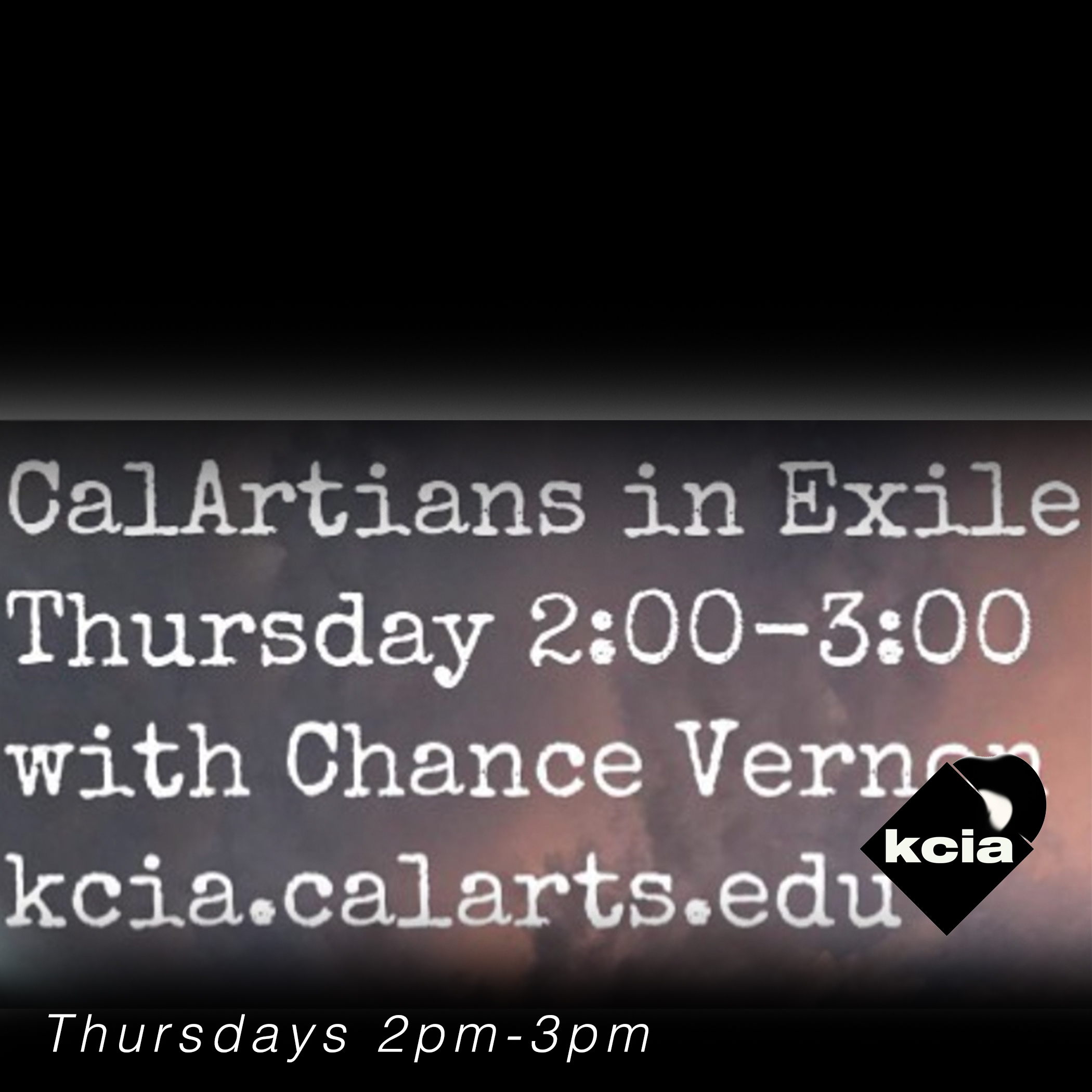 CHANCE VERNON
SHOW - CALARTIANS IN EXILE
Highlighting creative and critical writing work at CalArts that includes audio drama, readings, and interviews with writers and students, faculty and visiting authors in the CalArts creative writing program.
LOG-IN/
NOBODY'S NOTHING
SHOW - TECHNICALLY RADIO
Two music students play their favorite songs from their favorite artists, as well as music and interviews from local artists.
ELIOT BURK
SHOW - OUTSIDE MUSIC FROM INSIDE THE GOLDEN STATE
Featuring a large variety of experimental sounds from artists working out of California, from noise, to free jazz, to contemporary classical, to other even more undefinable experimentations & expressions. Each episode features a single artist, with detailed discussions of their music and curated audio examples.
DJMRBKARCADIO
SHOW - ARCADIO
For years, ARCADIO has been a dedication to video game music from all over the world. Video game music spans across all genres from chiptune to rock, rock to hip-hop, hip-hop to classical, and classical to EDM, and that's just to name a few. The music of video games has grown from a single composer to having full scale orchestras and ARCADIO throws these jams into one of the most iconic playlist blaring the airwaves of KCIA, Twitch, and beyond. Join the ARCADIO Army on Wednesdays at High Noon and join the livestreams on twitch.tv/arcadioradio. GITREADY!!!
DOMINIQUE
SHOW - CLEPSYDRA
Clepsydra offers a sonic instruction manual to measure the passing of time. Instruction is created through a combination of traditional, experimental and avant-garde music, folk-lore and anecdotes.
GONDRE LEWIS
SHOW - THE WORDSMITH
---
ROB WEDDLE
SHOW - THE ROOT CELLAR
The Root Cellar is the exploration of the history of American popular music—from the isolated folk sounds that originated inside a variety of diasporas from Africa, Asia, Europe, and Latin America, to the evolution of those sounds throughout the centuries as they frequently overlapped sonically and geographically. The styles we know and enjoy today are all amalgams of styles that came before them, and we'll dig deep into contemporary popular styles to see where they intersect.

ZACH ROSENSTIEHL/
JAY SHROEDA
SHOW - CRATE DIGGIN'
Crate Diggin' plays and showcases music that has been sampled in Hip-Hop/R&B, electronic music, and other musical genres.
MATTHEW PAGOAGA
SHOW - THE MAGIC LANTERN SHOW
Established in 2010 by host Matthew Pagoaga, The Magic Lantern Show is a talk-show/salon featuring artists, musical guests, performers, and other creatives. Modeled after The Dick Cavett Show, the program emulates and celebrates Cavett's cross-talk programming on art, politics, and current events while retaining some retro-homage flair via vintage advertisement breaks and music. The show began as a radio program before transforming into a live stage talk show. The Magic Lantern Show took residency at various venues across The United States in the past decade, at one point fielded interest from executives at NBC. The show has featured a variety of guests including the late comedian/actor Kevin Barnett, Alex Schaaf of Yellow Ostrich, The Shortsleeves, and others. Now, the show seeks to return to its roots on the radio waves…
NICK BROWN

SHOW - GREATEST HITS
Nick Brown returns to the airwaves to share opinions, stories, and facts about the greatest songs by the greatest artists of all time.
ERIC LENNARTSON
SHOW - THE BEEPIN' HOUR
A deep dive into the wondrous world of beeps. Each week presents a new and exciting perspective on the ontological question, what is a beep?
ASHRIS/
ARC LAWRENCE
SHOW - UNDERGROUND WAVE
Welcome to Underground Wave, an outer space for relaxation.
The finest, most eclectic soundtracks found here transcends the DJ-idolizing culture of the modern club. You will be at the center of the dance-floor at Underground Wave, where you can experience a truly transformative night.
KAT WALKER SHEA

SHOW - GEORGIE ROMERO IS DONE FOR
A horror comedy fiction podcast about a stubborn zombie who is driven to unearth the mystery of her former life, with some help from an inept witch and cynical ghost.

DJ NEO + DJ GERM + DJ LUVA + DJA BUTTERFLY
SHOW - STUDIO 24707
Cool, eclectic music from 4 cool LGBT guys.
ANGELA ROSADO
SHOW - HALLYU: HI YOU!
A radio station focused on Korean pop music. Every week there would be a loose theme/focus to the show, whether it be a focus on a particular artist's discography, a subgenre or mood, or kpop from a specific era.
CHRIS LYRIC
SHOW - BEST LYFE
BST LYFE is an inclusive platform to move culture forward with art and discussion. BST LYFE's is motivation for students and listeners to live their best lives. My goal is to discuss hot seat topics, share exclusively student music, spotlight gallery night artists, and share the occasional tip to navigate college. Throughout the semester I intend to feature students from all disciplines studied at CalArts. I intend to feature outside platforms who prioritize the advancement of student artists. In addition, BST LYFE's goal is to prioritize the voices of People of Color, as well as voices students who identify as LGBTQ+. In the pursuit of bringing at least our CalArts world to a more inclusive place, it's important to make the difficult subjects easier to discuss. This is the purpose of BST LYFE and we're gonna have so much fun doing it.
X/0
SHOW - PHARMAKON
elastic limit of fleshy-mechanic membrane --> molecular noise faucet dance lyric
//////...////-_[{{{s[[dkjjiiijjjjjjji-. .i66&^^^^